BCNI Blood Cancer Symposium - Friday 24th May, University College Cork
Feb
13
2018
Posted: 16:50 GMT
Blood Cancer Network Ireland is holding its annual symposium on Friday 24th May in University College Cork
"Blood Cancer : Advances in therapeutic strategies and enhanced patient registration to improve outcomes"
The aim of the symposium is to provide Irish researchers and clinical staff with the opportunity to hear about the latest research and hottest topics in blood cancer research from international experts and to present their own work in this area.
The scientific focus will be in two key areas:
Immunotherapy and targeted therapies
Enhanced blood cancer patient registries
This symposium will bring together researchers in the fields of therapeutics development in hematological malignancies with clinical investigators and experts in patient registeries to improve treatment and patient outcomes.
There will be an opprotunity for researchers to present posters in the area of immunotherapy, targeted therapies, clinical registries and PROMS . Prizes will be awared for the best poster presentation.
There will be an opportunity for young researchers to meet experts in the field at a "meet the experts" session
There will be a session on "Advances in blood cancer research" directed towards patients and their families at the end of the symposium
Abstracts and Posters
Abstracts on research in any area of blood cancers and in particular abstracts in the areas of drug discovery, immunotherapy, cancer registration, PROMs measures are welcome . Abstracts should be submitted as a Word Document and should not exceed 350 Words (excluding: Abstract Title/Authors/References – Tables and graphs are not permitted).
All abstracts should be emailed to Sinead Cassidy on sinead@sineadcassidy.com. All abstract submissions will receive an acknowledgment email from Sinead. If you do not receive an acknowledgment email, your email has not been received by Sinead.
DEADLINE FOR ABSTRACTS –Now closed
For more details and to register for the symposium please see
http://www.uccconferencing.ie/product/blood-cancer-network-ireland-symposium-24th-may-2019/
Registration fee is €50
‌Final Programme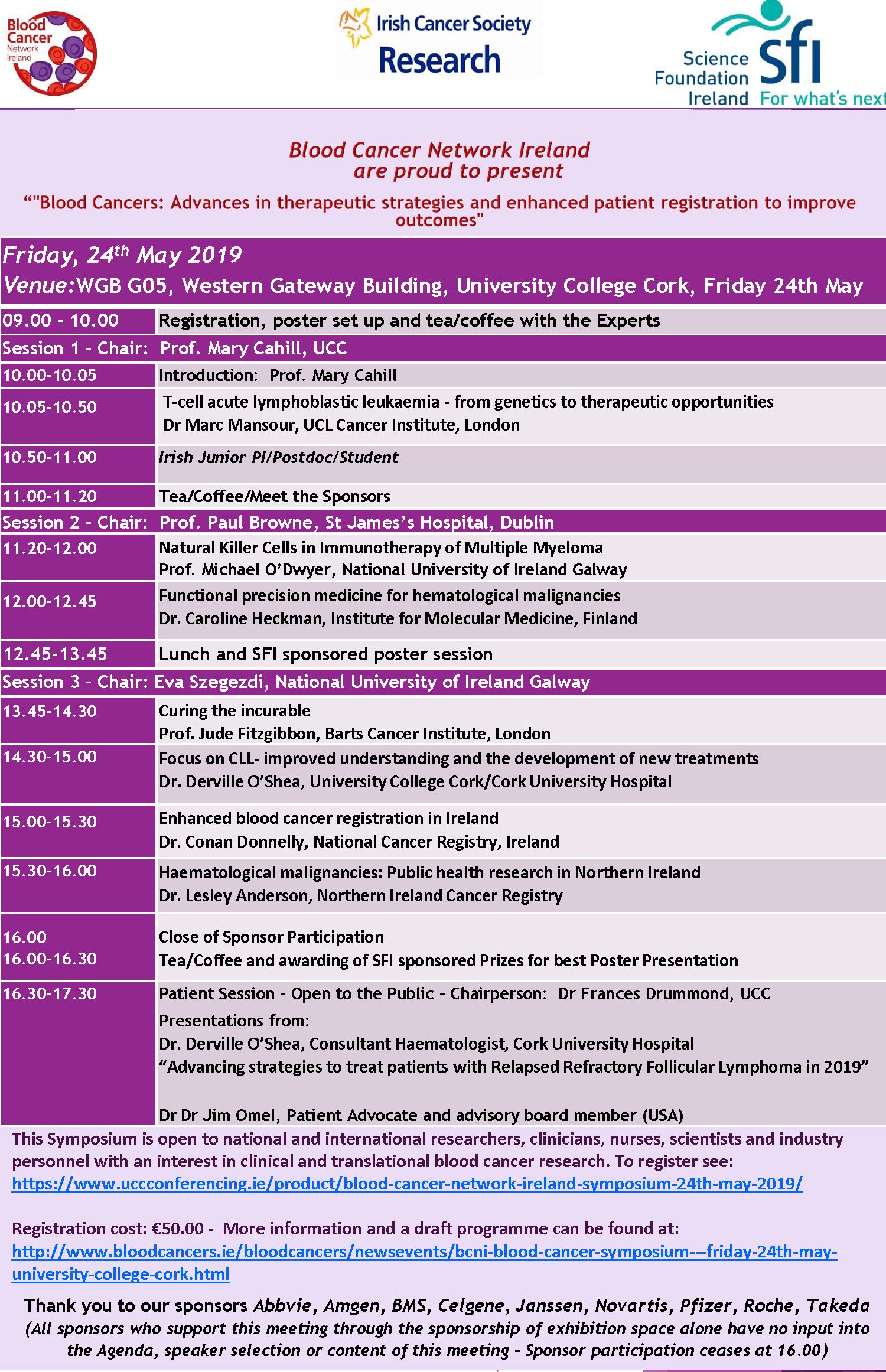 We look forward to seeing you at this years symposium!