Uncovering the Value of Real-World Data for Blood Cancer
Janssen - Make Blood Cancer Visible
Oct
14
2019
Posted: 16:54 IST
Uncovering the Value of Real-World Data for Blood Cancer
On 14th October, Conan Donnelly (NCRI) and Jess Walsh (BCNI Clinical Trials Coordinator), both from BCNI, participated in
a round table discussion organised by Janssen in partnership with CLL Ireland, Blood Cancer Network
Ireland, Irish Cancer Society and Multiple Myeloma Ireland.
The discussion, entitled 'Uncovering the Value of Real-World Data for Blood Cancer' facilitated discussion on clinical data collection and patient related outcome measure in Irish health amongst stakeholders from organisations from charities, to academia, industry and policy.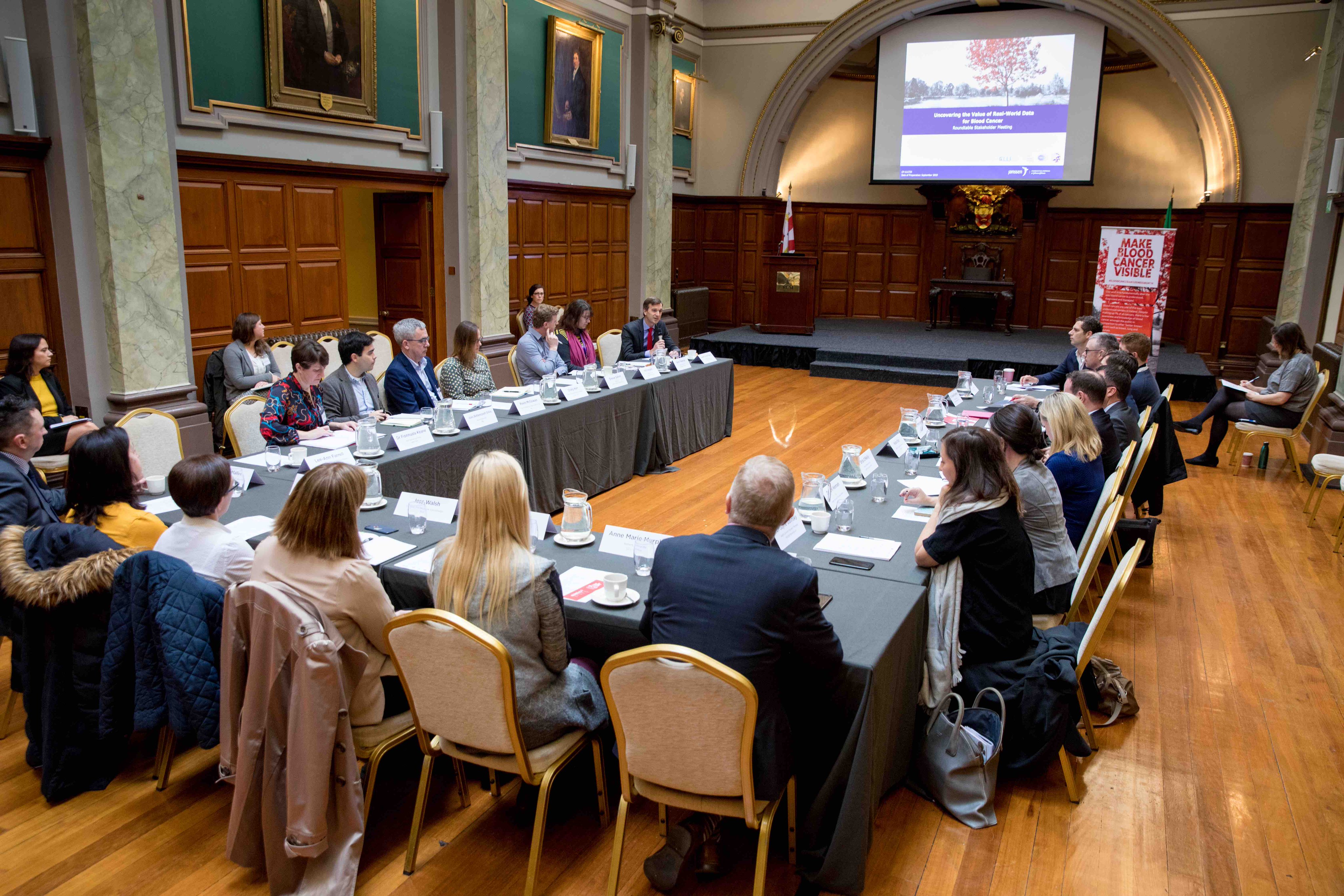 Participants discussed real world data infrastructure in Irish cancer care under the topic headings:
How does Ireland compare in the capture of real-world data in clinical settings?
What barriers exist to building and scaling data solutions that can capture clinical outcomes in Irish healthcare?
How can we develop clinical data infrastructure to make Ireland more attractive for cancer research?
They also discussed patient quality of life in the areas of:
How does the Irish health service compare to other countries on the integration of patient experience into clinical care?
Can we improve the routine collection of PROMs in our health service?
What are the barriers to the routine collection of PROMs and PREMs in clinical settings in Ireland?
Finally, participants discussed the potential for innovative digital solutions in bringing value to this area under th headings of:
One of the barriers that restricts the scaling of registries is the cost of manual data collection, are there ways to automate these processes?
Can we implement innovative methods to improve the extraction or the structured capture of clinical data in a computable format?
Are there innovative methods of data capture that do not disrupt clinical workflows?
The aims of the day were to make recommendations on how to improve data infrastructure to make Ireland more attractive for clinical research, how to better integrate patient experience into clinical decision making in Ireland, and to make recommendations on innovative digital technologies and data solutions that can help scale clinical data collection and make it more useful for secondary purposes. These recommendations are to be published in a report by Janssen which will be provided to all participants.
The closing remarks were given by Donal Buggy, Head of Services and Advocacy, Irish Cancer Society. The event took place at RCSI, Dublin.
Follow the groups that took part on Twitter @IrishCancerSoc @MyelomaIreland @CllIreland @JanssenIE and follow us at @BloodCancerIRL